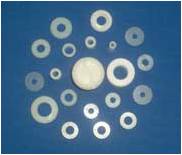 TECAFINE™polypropylene (PP) is homopolymer polypropylene plastic providing excellent chemical resistance to acids and bases. It is light weight and unaffected by moisture. This material is widely used in general purpose stamped parts and washer applications. It survives hot sulfuric acid in lead acid batteries in your car, acid resistant filter plates in the pulp and paper industry, and heat ages well enough to survive under the hood operating temperatures.
Excellent chemical resistance
TECAFINE™PP is resistant to organic chemicals, solvents, mineral acids, and inorganic salts.
Weldable
High purity
TECAFINE™PP nonparticulating and suitable for high purity environments.
Light weight
TECAFINE™PP has a specific gravity of less than 1.
Moisture resistant
TECAFINE™PP is unaffected by water or moist environments.
Unsurpassed quality
Ensinger's unequaled extrusion expertise means users consistently obtain the highest quality polypropylene stock shapes.
TECAFINE™PP's excellent chemical resistance and high purity characteristics make it ideal for use in the food-processing and chemical-processing industries. Common applications include pump and valve components, tanks, laboratory equipment, and other parts in contact with corrosive environments.
Properties
Condition
Value
Test Method
Comment
Mechanical
Modulus of elasticity (tensile test)
@ 73°F
130,000
psi
ASTM D 638
Tensile strength at break
@ 73°F
4,700
psi
ASTM D 638
Elongation at break
@ 73°F
100
%
ASTM D 638
Flexural strength
@ 73°F
6,000-8,000
psi
ASTM D 790
Modulus of elasticity (flexural test)
@ 73°F
180,000
psi
ASTM D 790
Notched impact strength (Izod)
@ 73°F
0.9
ft-lbs/in
ASTM D 256
Rockwell hardness
R Scale
90
ASTM D 785
Thermal
Melting temperature
330
°F
1)
1) Per ASTM D3418
Deflection temperature
@ 264 psi
130
°F
ASTM D 648
Thermal expansion (CLTE)
5*10-5
in/in/°F
ASTM D 696
Electrical
Volume resistivity
@ 73°F
1*1017
Ω*cm
ASTM D 257
Dielectric constant
@ 60 Hz, 73°F, 50% RH
2.2
ASTM D 150
Other
Moisture absorption
@ 24 hours, 73°F
0.01-0.03
%
ASTM D 570
Flammability (UL94)
HB
–
This information is only to assist and advise you on current technical knowledge and is given without obligation or liability. All trade and patent rights should be observed. All rights reserved. Data obtained from extruded shapes material.
TECAFINE™ PP – Ensinger Industries, Inc.