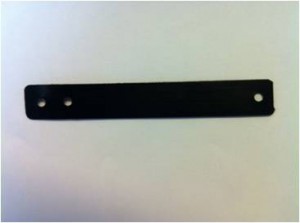 Like Tecafine PP, stamped washers and parts made from HDPE and LDPE have excellent resistance to acids and bases, and while their upper service temperature is not as good as PP, the low temperature toughness is notebly better. Washers and spacers from these materials work well in outdoor service applications. Markets like winter sporting goods, building and construction, and refridgerator components value the low temperature impacts. LDPE will have better stress crack resistance then HDPE.
Broad chemical compatibility
Easy to machine
Good impact strength
Low moisture absorption
Properties
Condition
Value
Test Method
Comment
Mechanical
Modulus of elasticity (tensile test)
@ 73°F
130,000
psi
ASTM D 638
Tensile strength at break
@ 73°F
4,700
psi
ASTM D 638
Elongation at break
@ 73°F
100
%
ASTM D 638
Flexural strength
@ 73°F
6,000-8,000
psi
ASTM D 790
Modulus of elasticity (flexural test)
@ 73°F
180,000
psi
ASTM D 790
Notched impact strength (Izod)
@ 73°F
0.9
ft-lbs/in
ASTM D 256
Rockwell hardness
R Scale
90
ASTM D 785
Thermal
Melting temperature
330
°F
1)
1) Per ASTM D3418
Deflection temperature
@ 264 psi
130
°F
ASTM D 648
Thermal expansion (CLTE)
5*10-5
in/in/°F
ASTM D 696
Electrical
Volume resistivity
@ 73°F
1*1017
Ω*cm
ASTM D 257
Dielectric constant
@ 60 Hz, 73°F, 50% RH
2.2
ASTM D 150
Other
Moisture absorption
@ 24 hours, 73°F
0.01-0.03
%
ASTM D 570
Flammability (UL94)
HB
–
This information is only to assist and advise you on current technical knowledge and is given without obligation or liability. All trade and patent rights should be observed. All rights reserved. Data obtained from extruded shapes material.
TECAFINE ™ PP – Ensinger Industries, Inc.